Streets in the Old Third Ward
There are relatively few streets in the Old Third Ward. Since this ward was created some streets have been renamed and some have disappeared.
The boundaries of the Third Ward as originally drawn in 1867 stretched from Cherry St.(now S. Memorial Dr.) on the west to Elm St. on the east, W. College Ave. on the north to the river on the south.
The 1889 plat map shows the boundaries redrawn, with the Third Ward stretching west to Locust St. and north only to Seventh St., here with the west border being Cherry St. In 1917, the Third Ward was rectangular again: Locust to Elm, College to the river.
Since the "Old" Third Ward neighborhood was identified in the mid 1990's and centered more around the Outagamie County Courthouse, the area is now bounded by S. Memorial Dr., S. Oneida St., W. Lawrence St. and the river.
Numbered streets, W. Third through W. Eighth, run east and west. Also running east and west are Lawrence St. and Prospect Ave. Even though some streets are marked "west," in many cases there is no "east" portion of that street elsewhere in the city.
Click on the streets below or the names on the right for more information.
---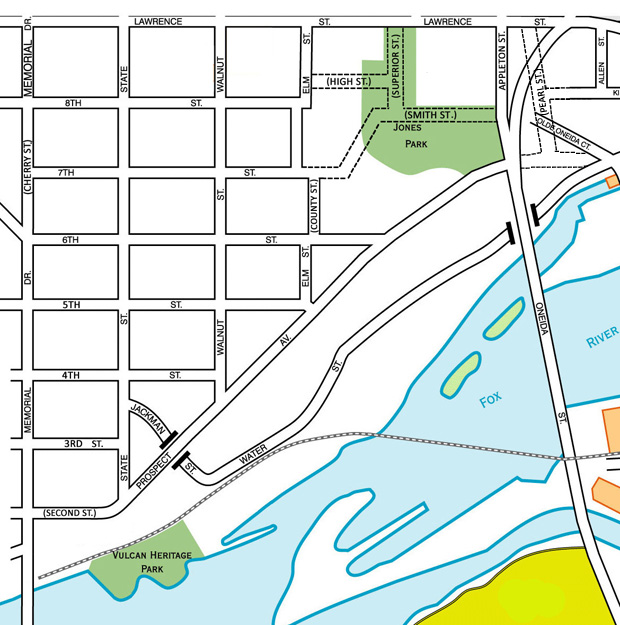 S. Appleton St.
Cherry St. (now S. Memorial Dr.)
County St. (now part of S. Elm St.)
S. Elm St., north of 6th
S. Elm St., south of 6th
High St. (now part of W. Eighth St.
Pearl St., no longer in existence
W. Second St. (now W. Prospect Ave.