S. Jackman St.
---
Cyrus Jackman is listed as a tavern keeper in the 1850 census for Grand Chute, along with his wife Caroline and five children. According to an article in the December 17, 1930 Post-Crescent, Jackman owned the first hotel in the village of Grand Chute. Another article in the March 17, 1968 Post-Crescent says that the boarding-house type hotel was probably at the top of Jackman St.
This street has the fewest homes in the Old Third Ward. At one time there were homes on the south side of the street. Today only three remain, on the north side.
Jackman is a steep street stretching from W. State St. at the top, running underneath W. Prospect Ave. and ending at W. Water St.
It has been said that this street is the remnant of a portage trail leading around the trecherous Grand Chute in the Fox River. The portage began at W. Water St., came up Jackman to Prospect, continued west to Front St. over to Pierce Park then down the hill to Lutz Park.
Read more about efforts to change the name of Jackman St. on Facebook.
---
From Morrow and Gillett's Appleton city directory, for 1889-90:
JACKMAN, 920 Water, northwesterly to 392 State, bet State and Walnut, numbers from 350 to 392.
In 1925 a new system of numbering structures in the city of Appleton was adopted. In this directory both the new and old street numbers are given. In addition, College Ave. was designated the dividing line between north and south, and Oneida St. was the east-west divider.
From Wright's Appleton city directory 1925:
JACKMAN S - From 702 S State se to W Prospect av, 5 w S Oneida
---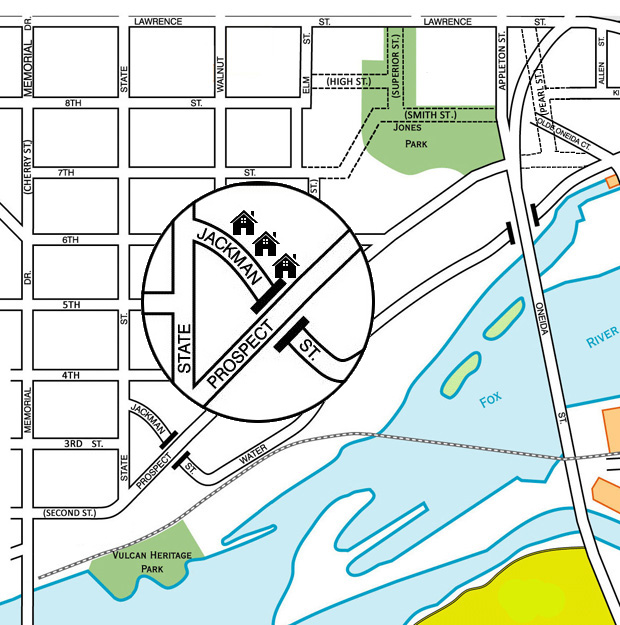 Click on the icons or addresses for more information. The pre-1925 addresses are in parentheses.
---
From S. State St. to W. Water St.: