335 W. Prospect Ave.
Street number prior to 1925: 911 Prospect
---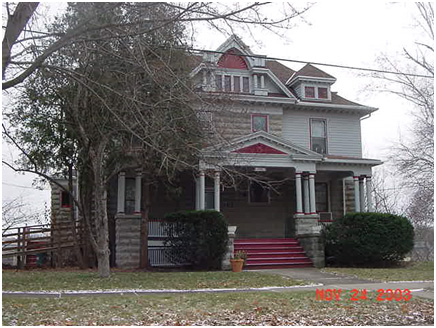 This home, built in 1903, lay just outside the boundary of the Third Ward in the Second Ward at that time. Turn-of-the-century electism can be seen in this combination Shingle/Colonial/Neoclassical Revival late Victorian era home. This building appears in the 1978 survey of historic structures in Appleton.
This home was built using "ornamental concrete block." This man-made material fashioned from portland cement made concrete blocks a strong, inexpensive alternative to brick or stone. This gave famillies of average means the opportunity to build houses of many different styles at a reasonable price.
Other examples of homes constructed from this material are located at 327 S. Walnut St., 329 W. Prospect Ave., 340 W. Prospect Ave.,339 W. Sixth St., 608 W. Sixth St., 617 W. Sixth St., and 419 S. State St.
The home was built for Jacob Wolf and his wife Elizabeth who still occupied the home in 1925. Jacob planted a birch tree in the front yard to celebrate his son's safe return from World War I.
Elm St., which borders the house on the west, once lead straight down to S. Water St. After the swimming pool was built in 1914 on Water St., that southernmost portion of S. Elm St. was closed and stairs built to allow swimmers easy access by foot. Remnants of the top of the stairs can still be seen today.
This home is located in the West Prospect Avenue Historic District which is listed in the State and National Register of Historic Places.