329 W. Prospect Ave.
Street number prior to 1925: 895 Prospect
---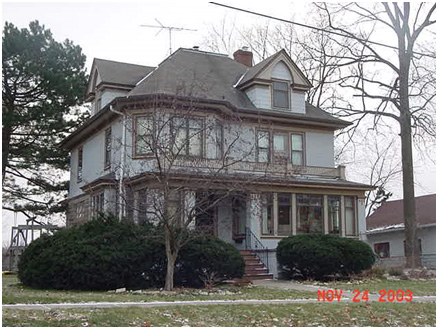 This Foursquare/Queen Anne style home was the residence of noted Appleton painter and sculptor William Scheer for almost 50 years. Scheer's work can be seen in St. Joseph's Catholic Church on W. Lawrence St. in the Old Third Ward.
This home is located in the West Prospect Avenue Historic District which is listed in the State and National Register of Historic Places.
This home was built using "ornamental concrete block." This man-made material fashioned from portland cement made concrete blocks a strong, inexpensive alternative to brick or stone. This gave famillies of average means the opportunity to build houses of many different styles at a reasonable price. Most likely the builder of this house used a manufacturer's catalogue pattern.
Other examples of homes constructed from this material are located at 327 S. Walnut St., 340 W. Prospect Ave., 339 W. Sixth St., 608 W. Sixth St., 617 W. Sixth St., and 419 S. State St.