419 S. State St.
Street number prior to 1925: 469 State
---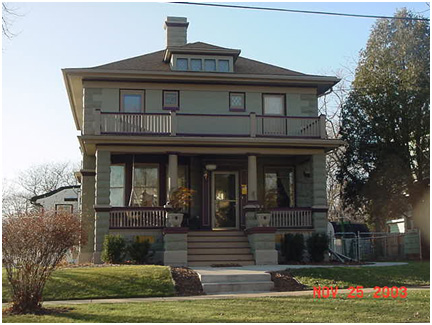 This home was built in 1905 using "ornamental concrete block." This man-made material fashioned from portland cement made concrete blocks a strong, inexpensive alternative to brick or stone. This gave famillies of average means the opportunity to build houses of many different styles at a reasonable price.
Other examples of homes constructed from this material are located at 327 S. Walnut St., 329 W. Prospect Ave., 335 W. Prospect Ave., 340 W. Prospect Ave., 339 W. Sixth St., 608 W. Sixth St., and 617 W. Sixth St.
The resident of this home from about 1918 to 1926 was Edward J. Morrow. In 1926 he was issued a building permit for the house next door, 415 S. State St. The cost of that house was $6500.