401 W. Prospect Ave.
Street number prior to 1925: 925 Prospect
---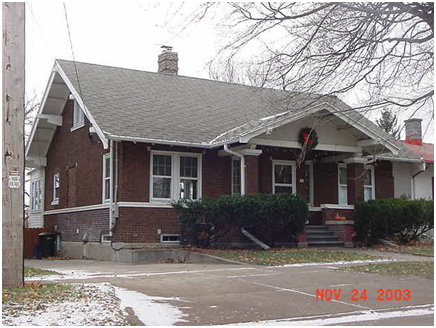 This brick Bungalow style home was built in 1914 for County Judge Henry Kreiss. At that time the border between the Second and Third Ward appeared to run directly through Lot 20 on which this property is located. The sunlit breakfast room on the river side of the home is thought to have been added in the 1920's.
This is one of three properties on Prospect that do not extend all the way down to Water St., the others being 345 and 405. These three homes are clustered together and are bordered on the east by what was the southern extension of S. Elm St., and on the west and south by other sections of city property.
The 1925 Wright's city directory lists Frank H. Zahrt as the resident, but from 1925 through the early 1930's the home was occupied by Eric and Winifred ("Friday") Bell Lindberg. Mr. Lindberg was employed in the paper industry and Winifred was an accomplished pianist. Both were active in the community and appeared regulary in the Social Activities column in the Appleton Post-Crescent. Many meetings of the Wednesday Musicale and the Xi Xi Alumnae association of Sigma Alpha Iota International musical sorority were held at the home along with other musical events, meetings and performances.
Both of the Lindbergs appear in Charles C. Nelson's book, Biographies of Prominent People of Appleton and the Fox River Valley.