The Cleggett/Hollensworth Family
---
The Cleggett (or Clegget) and Hollensworth (Hollingsworth) families have been intertwined since the early 19th century. The names appear in New York, Maryland, and Pennsylvania. The male members of the families were barbers going back to at least 1830 and the females worked as hairdressers. Early census records have the families listed as "free blacks."
In the 1874 Appleton city directory, there are three Cleggets working in barber/hair dressing business: Mrs. F. B. Clegget (over C. G. Adkins' dry goods store on the corner of College and Morrison,) G. Clegget II (opposite the Levake House, residence on the west side of Appleton St. at the head of Fisk) and W.[illiam] S. Clegget (opposite the Levake House, residence on the west side of Morrison St., one south of the railroad.) G. Cleggett is likely George Cleggett, a brother of William Cleggett. George later moved to Iowa. The identity of Mrs. F. B. Cleggett has not yet been determined.
William S. Cleggett, a barber and his wife Rebecca B. Hollensworth Cleggett, a hairdresser lived with their family on State St. in 1880, probably at what is now 510 S. State St. By 1884 they lived at the "n e cor State and 5th" (what was then 438 State and now 528 W. Fifth St.) In 1887 Rebecca lived at 624 College with her daughter Sarah Emma, and in 1889 at 450 State, now 510 S. State St. In 1891 Rebecca and Ada were back living at 438 State. William lived for a time in Upper Michigan but was back at 428 State by 1896.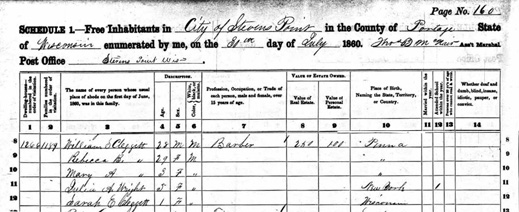 At various times the household consisted of Mary E. Cleggett, Mary E. Hollensworth, Julia Wright, Sarah Emma Cleggett, Ada K. (Edelia) Cleggett, Rebecca Hollensworth and Gertrude Louise Hollensworth and Charles Edgar Newman.
Members of the family are listed as mulatto on the 1860 census when they lived in Stevens Point and also on the 1870 and 1880 census schedules when they lived in Appleton. However, in both the 1900 federal census and the 1905 Wisconsin census they are black. By 1910 they were back to mulatto. Daughter Mary's entry in the Lawrence College Alumni Record, 1857-1905 states the family is of "Scotch-Irish-negro ancestry."
In 1892 William and Rebecca were living with their daughter Ada, a teacher, at what was then 438 State and now 528 W. Fifth St. The family would live at that address until 1915.