Mary Cleggett
---

Mary Cleggett was born in Pennsylvania around 1857, the eldest daughter of William S. and Rebecca B. Hollensworth Cleggett. Choosing to not follow in the family business of hairdressing, she attended Appleton's Lawrence University and graduated in the class of 1876. Her entry in the Lawrence College Alumni Record, 1857-1905 states the family is of "Scotch-Irish-negro ancestry."
Members of the the family are listed as mulatto on the 1860 census when they lived in Stevens Point and also on the 1870 and 1880 federal census schedules when they lived in Appleton. However, in both the 1900 federal census and the 1905 Wisconsin census they are black. By 1910 they were back to mulatto.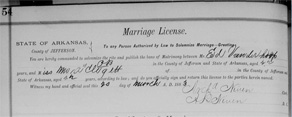 Mary married Edwin D. Vanderhoop in Pine Bluff Arkansas, March 20, 1883. The couple returned to Gay Head, Massachusetts where they has seven children. Mary became postmaster of the Gay Head post office on Aug. 13, 1907 (from The history of Martha's Vineyard, Dukes County, Massachusetts (1911), v. 2, Annals of Gay Head, p. 31.) She is listed as either black or Indian in census records.
from familysearch.org
Mary's name is listed as "Mora."
Mary was the author of Gay Head Indians, a scrapbook containing a series of articles cut from issues of the Vineyard gazette, Edgartown, Mass., July 22-Oct 21, 1920. She died October 6, 1935 at the home of her daughter, Mrs. Nanetta Madison in New Bedford, Mass.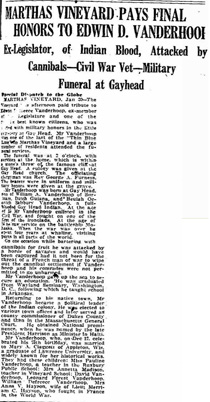 Edwin Vanderhoop's 1923 obituary illustrated the colorful life he lead. His father was a native of Suriname, Dutch Guiana and his mother was a full-blooded Gay Head Indian. He enlisted in the Civil War at the age of 15 and served "on one of the first ironclads." He then spent four years whaling and on one occasion was attacked by cannibals. He received an education and taught school in Arkansas where he met his wife. He then returned to Massachusetts where he became a leader of the Indian colony and served in the Massachusetts General Court. He was later appointed Minister to Haiti by President Harrison.
from ancestry.com
Historical Newspapers, Birth, Marriage
& Death Announcements, 1851-2003
Boston Daily Globe, Jan. 31, 1923