419 S. Walnut St.
Street number prior to 1925: 475 Walnut
---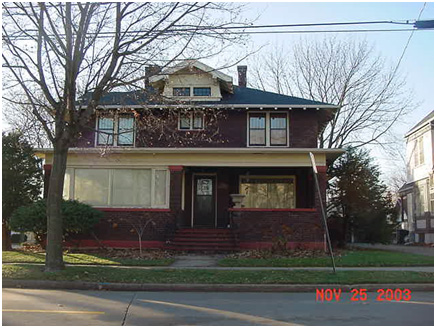 This well preserved example of a costly American Foursquare home was built in 1925 for mortician Frank J. Schreiter. It was designed by local architect Edward Wettengel and built by Henry Boldt using Ohio brick and native Wisconsin birch woodwork. Coved ceilings are the work of a Milwaukee plasterer, since no one in Appleton possessed that skill at that time.
The eaves, with exposed rafter ends, and low gabled bargeboard dormers, exemplify "craftsman" elements showcasing the building's construction.
The 1923 building permit states this was two residences. This building along with a brick and tile garage were built at a cost of $13,000.
On this lot, before the current home was built, stood a home dating from at least 1884 when it was a boarding house. This home was associated with a rather colorful incident involving the dismantling of a barn:
from the Appleton Post Crescent, May 23, 1923, p. 9
An uncanny feeling crept over Theodore Albrecht, Fairview St., when he entered the barn at the rear of the Frank Schreiter home at Sixth and Walnut Sts., which he had purchased recently to dismantle.
What foul deed had been committed here in years past? Or what ghoulish fancy had unearthed the remains of what once had been a human being. Scattered about the bam on the ground floor and up in the hay loft, he found the mouldering bones of a human skeleton. Albrecht wanted the lumber in the barn. He had no use for the bones. Besides, he believed this was a matter for the police and the coroner.
Police Chief George T. Prim and Coroner Ellsworth visited the site and determined that the bones had belonged to Dr. J. V. Canavan, former Mayor of Appleton. Dr. Canavan had used the bones in his medical practice and had kept them from medical school. Dr. Canavan had lived on this same site.
"The barn is probably one of the oldest buildings in Appleton. It is a relic of the days when Kentucky thoroughbred horses were kept here. It was formerly the Goff barn on Prospect St. and had been moved over to Walnut St. about 25 years ago. "It was an old barn 35 years ago," said Peter Hoeffel, who remembers its location on Prospect St.