433 W. Prospect Ave.
Street number prior to 1925: 955 Prospect
---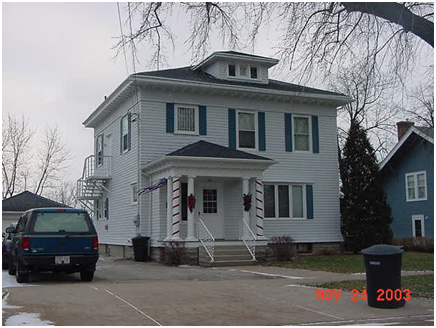 This Italianate mansion built for the Conkey family in 1849 does not survive intact. Only the center part remains, the summer kitchen having been demolished in 1914. The story was that the west wing moved to 503 W. Prospect, right next door. However, recent research has disproven that theory. The wing may have been moved next door, but it was moved again or demolished when the present home was built.
The home was built on the bluff overlooking the Fox River and Conkey's Flour Mill. At that time it was next to a small deer park.
Theodore Conkey and his wife Cynthia are well known names in Appleton history. Conkey platted the city of Appleton, named Outagamie County, served in the Wisconsin State Senate and General Assembly and was a colonel of the 3rd Wisconsin Cavalry in the Civil War. Cynthia accompanied her husband into the field during the war, and was also an accomplished horsewomen, a voracious reader and amateur artist.
An article on the Conkey family and their homes (including an early image) appears in the Summer 2000 issue of the Old Third Ward Neighborhood News.
The occupant of this home in 1925 was Henry A. Gloudemans, Secretary-Treasurer of the Gloudemans-Gage Co.