The Portage Trail
---
"It was necessary for them (the freighters) to assemble a large number of Indians at the rapids, to help them over with the boats. At Grand Kaukalin, they had to unload and cart the goods for about one mile, and the Indians, going into the water, pushed, lifted and hauled the boats over the rapids; then reloading them, poled them up to the Grand Chute, where Appleton is now situated. There they had to unload and carry the goods up a hill and down the other side above the Chute, which was a perpendicular fall of three or four feet. The Indians would wade in, as many as could stand about the boat, and lift it over, while the others had a long cordelle, with a turn around a tree above, taking up the slack and pulling as much as they could. When the boats were over they were reloaded and pushed ahead, and poled from there to Fort Winnebago. Excepting in low water, they would have to make half-loads over the Winnebago Rapids at Neenah, and with a fair wind would sail through Lake Winnebago."
--- Matteson, Clark S. An Illustrated History of Wisconsin From Prehistoric to Present Periods: The Story of the State Interspersed with Realistic and Romantic Events. Milwaukee: Wisconsin Historical Publishing Co., 1893.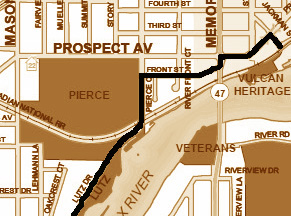 Since terminus of the Fox River is in Green Bay, accessible by water from the East, that was the starting point for explorers, traders, missionaries and settlers seeking the Northwest Passage to the East. The river runs upstream from there, ascending 170 feet from Green Bay to Lake Winnebago.
Before a system of locks and dams was constructed, the Fox River was a series of rapids and falls. The most treacherous was the Grand Chute, which lay near the foot of what is now S. Jackman St. In order to complete any river journey through this barrier, it was necessary to use a portage or land path around the falls. The natives had carved a portage hundreds of years before and were expert in getting passengers, vessels and goods around this barrier.
The portage trail mentioned above, it is thought, began at the foot of Jackman St., traveled up Jackman, over to Prospect, then Front St. to Pierce, down the hill to Lutz Drive and finally to the spot where Hippolyte Grignon built his trading post/inn, "White Heron," between Lutz and Alicia Park. The head, or highest point of the portage, was located at the north end of the Memorial Bridge.