John Miller Baer
---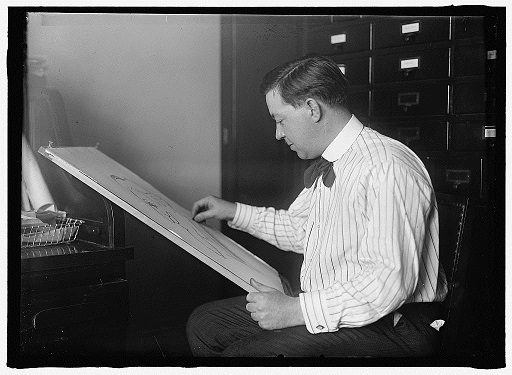 John Miller Baer was born to parents John and Libbie G. Riley Baer in Black Creek, Outagamie County on March 29, 1886. From 1892 he lived with his parents in the Cross Gabled home they built at 517 S. State St..
After graduating from Lawrence University in 1909 he moved to Beach, Golden Valley County, North Dakota where from 1909 to 1915 he was Postmaster, and engaged as a civil engineer and in agricultural pursuits. He furnished cartoons and articles to newspapers until 1917. That year he was elected as a Republican to the Sixty-fifth Congress by special election to fill the vacancy caused by the death of United States Representative Henry T. Helgesen, and reelected to the succeeding Congress. He acted as chairman for the Committee on Expenditures in the Department of Agriculture in the Sixty-sixth Congress) and was an unsuccessful candidate for reelection to the Sixty-seventh Congress. It was then he resumed activities as a cartoonist and a journalist. He died in Washington, D.C. on February 18, 1970 and is interred in Gate of Heaven Cemetery, Silver Spring, Md.
A document from North Dakota State University titled John Miller Baer: Nonpartisan League Cartoonist and Congressman, text and captions by Bill G. Reid, gives examples of his political cartoons. Syracuse University holds the John Miller Baer Cartoons collection. "The John Miller Baer Cartoons are comprised of 94 original, undated political cartoons primarily from the 1920s to the early 1940s."


Reproduction of black and white photograph from the Library of Congress.
Biograpical information from the Biographical Dictionary of the United States Congress,
http://bioguide.congress.gov/scripts/biodisplay.pl?index=B000027
Cover of The Nonpartisan Leader, November 17, 1919, "Organized big business interests" by John Miller Baer [Public domain], viaWikimedia Commons.