324 W. Sixth St.
Street number prior to 1925: 896 Sixth
---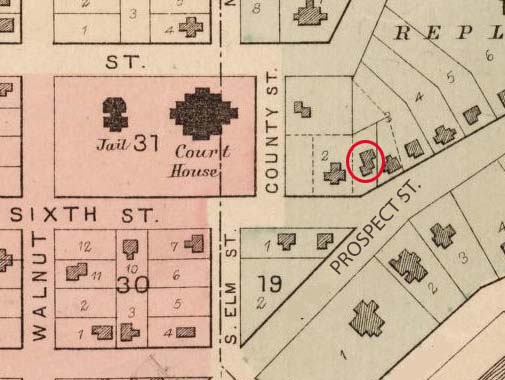 The home at the intersection of Sixth and Prospect was occupied in 1887 by millwright Daniel Trerice and in 1889 by John McNaughton who was secretary and treasurer for the Patten Paper Co. It was in the posession of the William J. Konrad, Jr. family since at least 1920 through the mid-20th century and became known as the Konrad house.
This home was targeted for demolition as early as June, 1970. The Appleton Post Crescent reported a joint recommendation from the Outagamie County Health and Public Property Committees had been made to purchase the property for use as a juvenile receiving home by the county Social Services Department.
On March 20, 1971 an article in the Post Crescent confirmed the move of the County's juvenile receiving center to the now County-owned property on S. Walnut St. At the same time the former Konrad property would now be slated to be demolished for county parking expansion. This time neighborhod residents spoke out. People living near the property were quoted in the paper: "Why can't you leave us alone?" "Why disrupt the entire neighborhood? Consolidate parking in one area." "You can condemn other land. Why distrupt our property?" One person asked Committee members if they would like to live across from a parking lot. Another stated the County did not need more parking.
The home was demolished and the site is now an Outagamie County surface parking lot. For more information, see the page on the Outagamie County's early expansion plans for the neighborhood.