324 W. Prospect Ave.
Street number prior to 1925: 894 Prospect
---
The point of the triangle created by Prospect and Sixth streets was in the Second Ward when this 1889 Queen Anne style home was built. Until then the only structures on this tiny block were stables used by the mansions on the river side of the Prospect.
Living here in 1889 were Anthony Hoeffel, an early Wisconsin settler, Joseph Hoeffel and Miss Mary L. Hoeffel who would marry James Ritchey in 1892.
Outagamie County Treasurer David Henry Balliet was the resident from 1892-1893. From 1896 to at least 1901 the James Ritchey family and Peter Hoeffel his business partner and brother-in-law lived here. Mrs. Nora Keefe resided there in 1925.
Peter Hoeffel and wife Mary built right next door at 331 W. Sixth St. City real estate records indicate the Sixth St. home was built in 1901. A residence in that location appears on the 1889 city plat map but the address does not appear in the 1889 directory.
This home is located in the West Prospect Avenue Historic District which is listed in the State and National Register of Historic Places.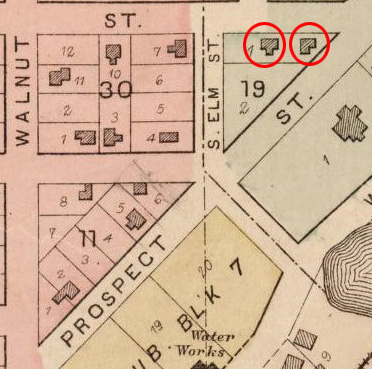 Portion of: Foote, C. M. 1849-1899. (Charles M.); Brown, Walter S.
Plat book of Outagamie County, Wisconsin, (1889).
The city of Appleton: west central part, p. 23.
Used with permission of the Appleton Public Library.