315 W. Prospect Ave.
Street number prior to 1925: 883 Prospect
---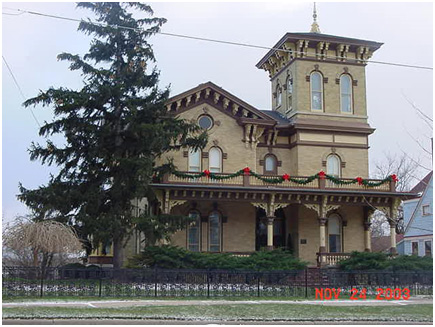 This elaborate High Victorian Italianate Villa was located in the Second Ward, since it lay east of Elm St., when it was built in 1870 by lumberman John Hart Whorton. By 1893 the home was populated by Georgine, Ion, Jennie and Zahdah Whorton, in addition to Mr. Whorton. Two years earlier Mr. Whorton had purchased the house across the street, 300 W. Prospect for his daughter Eliza and her husband, William Powell. The 1925 city directory lists Dr. Otto and Lillian K. Kress as the residents. Karl and Pearl Schuetter lived here in the 1930's.
As one of the most remarkable homes in Appleton, this home has been the subject of many published images. The banner at the top of the Old Third Ward webpages shows the intersection of W. Prospect and W. Sixth St. looking east on Prospect, with the Whorton house iron fence visible at the right.
This home is listed on the State and National Register of Historic Places and was designated as a local historic structure in 2000. It appears in both the 1978 and 1989 inventory of historic strutures.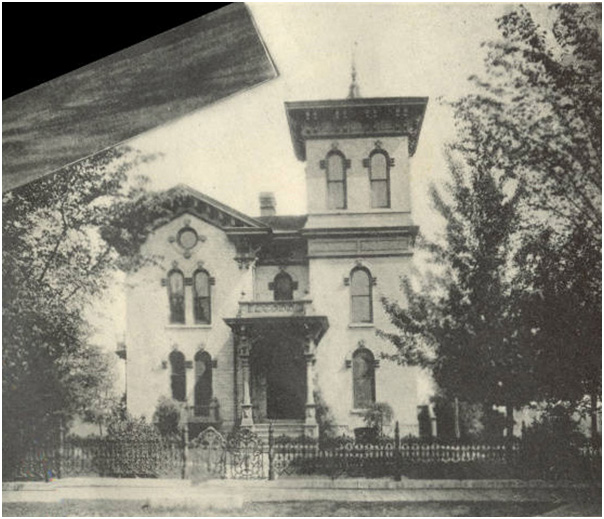 Image of the Whorton house (left) by photographer J. E. H. Stimson Source: Appleton, Wis., Illustrated, 1892. Used with the permission of the Appleton Public Library.