Jacob J. Hauert
---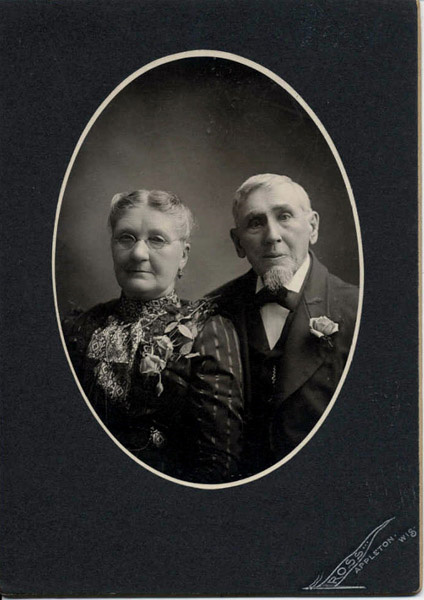 The Hauert family lived on the northwest corner of Eighth and Walnut streets, 227 S. Walnut St. from the 1890's through the first quarter of the 20th century. This home is no longer there. Jacob J. Hauert ran a flour and feed business, Hauert Brothers.
The following is an excerpt from the biography of Frank W. Hauert, son of Jacob, taken from Thomas Henry Ryan's History of Outagamie County, Wisconsin, [1911?], Part 12:
"He [Frank] is a son of Jacob and Elizabeth (Reineman) Hauert, the former a native of Baden, Germany, and the latter of the same country, from whence she came with her parents. Jacob Hauert came to the United States as a young man and settled first in Milwaukee, from whence, in 1849, he traveled overland to California during the days of the discovery of gold. Having accumulated considerable means there, he returned by way of boat, and was married in Milwaukee, after which he purchased land in Waukesha county, where all of his children were born. Mr. Hauert started to come to Outagamie county about 1868, to loan money, and about 1874 he settled in Appleton and bought a half interest in the Charles Morey flour mill. Later
Nicholas Weiland
bought Mr. Morey's interest in the business, which still later became Wambolt, Hauert & Company, Incorporated, and eventually the Hauerts all sold their interest in the business and Jacob Hauert retired, living a quiet life until his death in 1905, at the age of eighty-four years, his widow surviving until January 22, 1909."
On March 13, 1903 Mr. and Mrs. Hauert celebrated their golden wedding anniversary at the Walnut St. residence.

Reproduction of a studio portrait from Fox Valley Memory, used with permission of the Appleton Public Library. Caption: "Mr. And Mrs. J. J. Hauert, Golden Wedding, March 13, 1903 residence n.w.cor. Walnut and 8th."