621 W. Fourth St.
Street number prior to 1925: moved from 394 Cherry
---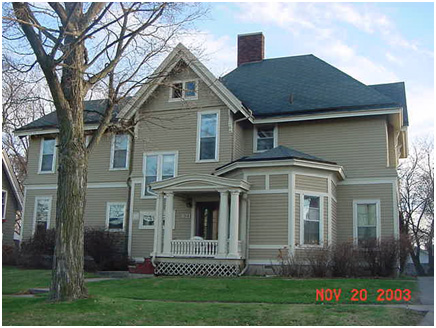 Originally a landmark on the southeast corner of Fourth and Memorial Dr., then 394 Cherry, this home was moved to its present location in the 1950's. The carriage house still exists behind the house in its original location.
Built by pioneer lumberman George Gerry in 1882, it was reported in the Appleton Post-Crescent "George will not spare a saw-log to make (his) home comfortable and attractive." Because well known fresco artist J. Frank Waldo worked on this house, it is believed William Waters, frequent associate of Waldo, was the architect.
The Gerry's daughter, Effie Gerry, was married on September 9, 1896 to James Albert Wood in this home at the bay window, wearing a beautiful white brocade gown. The wedding gown still exists with relatives in California.
After George died in 1890, his widow Clara, the sister of H. T. Waters, a prominent cigar manufacturer living at 362 Cherry, now 802-804 S. Memorial Dr., engaged in the Potts and Wood dairy business with son-in-law James A. Wood. By 1908, George Benjamin Baldwin, son of Judge George Baldwin and his mother Catherine moved here from the family home at 707 S. State St.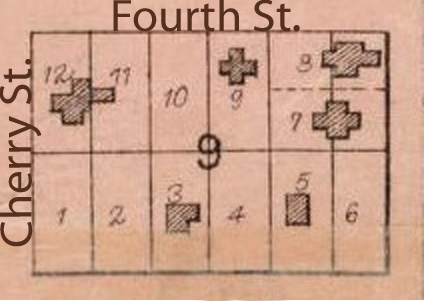 The original location of the home, block 9, lot 12 and part of lot 11, can be seen on this 1889 city plat map. Memorial Dr. was then Cherry.
Portion of: Foote, C. M. 1849-1899. (Charles M.); Brown, Walter S. Plat book of Outagamie County, Wisconsin, (1889). The city of Appleton: west central part, p. 23. Used with permission of the Appleton Public Library.