James V. Canavan
---
Reproduction of photo posted at City Hall from Fox Valley Memory,
used with permission of the Appleton Public Library.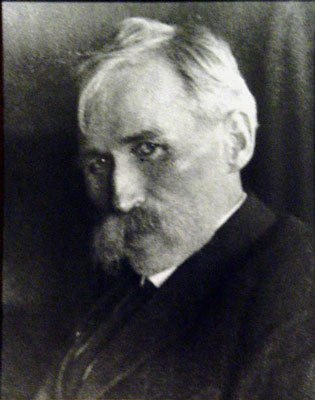 James V. Canavan, a physician, lived in a home at 475 Walnut from 1896 through at least 1905. In 1903, the Appleton medical club was organized and Canavan was elected president. In 1909 Dr. Canavan was county physician at a salary of $350. Canavan was Mayor of Appleton from 1910 to 1914 and spent $144.22 in election expenses, according to Ryan's History of Outagamie County, Wiscosin, pt. 6.

From Ryan's History of Outagamie County, Wisconsin, pt. 11:
JAMES V. CANAVAN, M. D., mayor of Appleton, Wisconsin, and one of the leading members of the medical profession here, was born in Outagamie county, Wisconsin, January 22, 1860, and is a son of John and Bridget (Prunty) Canavan, who came from Worcester, Massachusetts, in 1855, and located on uncultivated land in Outagamie county. Mrs. Canavan is now deceased, but her husband still makes his home in Outagamie county, his life having been spent in tilling the soil. They had three daughters and one son. James V. Canavan was educated in the public schools of Outagamie county, after leaving which he entered Rush Medical College, Chicago, from which he was graduated in 1894. He immediately engaged in a general practice at Appleton, where his professional zeal, together with his skill as a physician and surgeon and his attentiveness to patients, soon won him a large and lucrative practice and insured his success. Prior to taking up the study of medicine, Dr. Canavan had served as county clerk of Outagamie for three terms, and he has always been active in political matters. In 1910 he was nominated for the office of chief executive of the city on the Democratic ticket, and was elected to that office, in which he is now serving. Dr. Canavan was married (first) to Miss Nora O'Brien, of Hollandtown, Wisconsin, and she died in March, 1900. Dr. Canavan was married (second) to Delia E. Grimes, whose death occurred in January, 1908. The doctor has had seven children, of whom two are now deceased .

The lot where Dr. Canavan's home once stood is now occupied by 419 S. Walnut St.