James P. Buck
---
Reproduction of photograph by J. E. H. Stimson
from Pioneers' Association (Outagamie County, Wis.).
Spencer, Elihu, Editor Record of the Pioneers of Outagamie County, Wisconsin...
Post Publishing Company, 1898
Used with the permission of the Appleton Public Library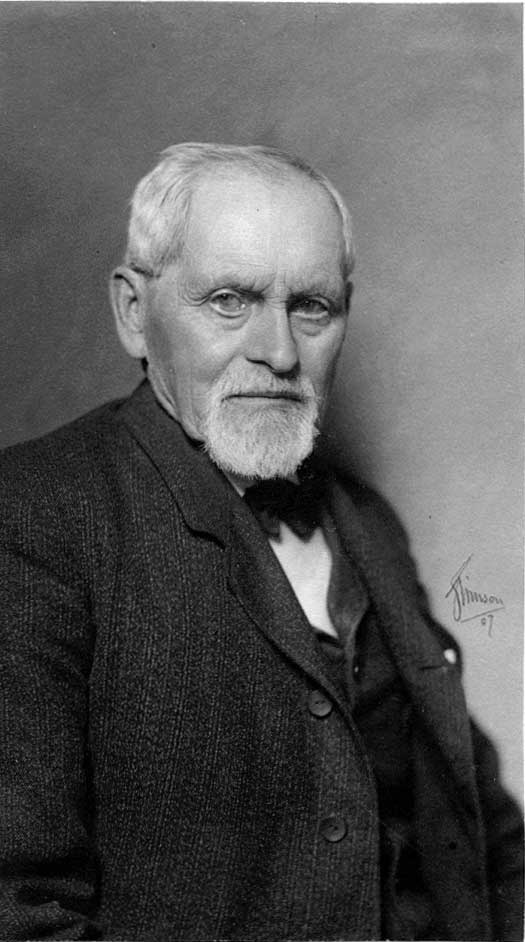 The following is taken verbatim from Record of the pioneers of Outagamie County, Wisconsin , 1898:
"James P. Buck was born July 2, 1824, at Oswego. N. Y.; came to Wisconsin Sept. 15, 1845; came to Appleton in 1855 and was married Oct. 27, 1847 to Susan Nichols who was born at Carmel, Restream county, N. Y. They came to Appleton in 1855 and reside on the corner of Walnut and Sixth streets. Occupation, real estate dealer."
From Commemorative Biographical Record of the Fox River Valley Counties of Brown, Outagamie and Winnebago..., 1895:
"J. P. BUCK, prominent among the old-time residents of Appleton, Outagamie county, was born July 2, 1824, in Oswego, N. Y. His father, Hiram Buck, was a native of Great Bend, Susquehanna Co., Penn., and was a carpenter and contractor. He married Prudence Dean, by whom he had a family of nine children, four of whom are now living. His death took place in New York in 1849, that of his widow occurring in Wisconsin in 1872.
From the age of fifteen until he reached twenty-one J. P. Buck was employed by an uncle, Lucius Steele, a farmer and lumberman, whom he assisted on the farm in the summer and in lumbering in the winter, so that his attendance at the district school was limited to a very small part of each year. Seeing no opening for himself in the East, our subject came West in September, I845, with the intention of settling in Illinois. But owing to a storm on the lake, en route, he landed at Milwaukee, Wis., and with a companion walked forty miles through the country, finally stopping at Barton, in Washington county, where he exercised his pre-emption right and returned to Milwaukee to file his papers and to purchase provisions, which he carried on his back to Barton. Here, for about two months, he assisted Mr. Salsbury in building a mill, and then commenced clearing his own land, chopping off the heavy timber from twenty acres the first winter. In 1852 Mr. Buck and two others purchased, in partnership, the Salsbury mill, which was run by Mr. Buck for six months, when he traded his interest therein for a partially improved farm of eighty acres. He farmed successfully until 1855, when he moved to Appleton, but subsequently passed a year at Sun Prairie, near Madison, Dane Co., Wis., and then returned to Appleton, where in 1856 lie bought an interest in a mill and went into the lumber business; after following this three years his mill was burned, and he then, in partnership with a brother-in-law, operated a planing-mill until about i86o. He then entered the employ of the Fox River & Wisconsin Improvement Company, traveling over the State and looking after its interests until it closed out its business in 1860.
About this time the Green Bay & Mississippi Canal Company was formed, and in its employ Mr. Buck has been ever since.
In his political affiliations Mr. Buck is a Democrat, and in his younger days was very active in working for the success of his party. He has held several minor offices, such as supervisor, alderman and justice of the peace; but was never an office-seeker, having always had ample business interests of his own to demand his attention. On November 27, 1847, Mr. Buck was united in marriage with Miss Susan Nichols, who was born in Carmel, Putnam Co., N. Y., a daughter of Perry Nichols, who settled in Barton, Wis., in 1847. Mr. and Mrs. Buck are members of the Baptist Church, and are highly esteemed for their piety and their liberality in all church and educational enterprises. He is a self-made man, and is honored and respected for his energy and usefulness as a citizen of Appleton."
Ad from the Thursday, July 22, 1858
Appleton Post-Crescent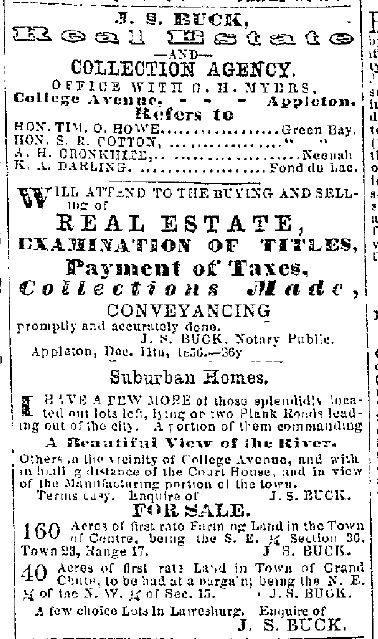 By 1892 James P. Buck was Treasurer of the Appleton Gas Light Co. From 1884-93 Buck was President of the Appleton Boot and Shoe Manufacturing Co. and from 1893-1898 he was in real estate. The front half of the house at 406 W. Fifth St. was built in 1892 as a rental property by James P. Buck.