Welcome to Appleton, Wisconsin's
Historic Old Third Ward
---

In-person Absentee Voting begins March 19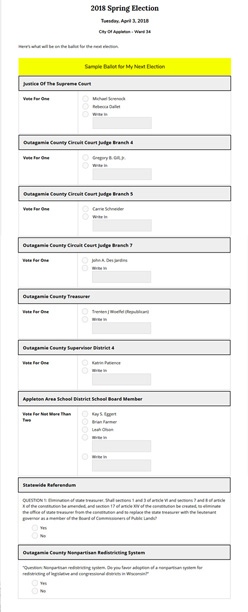 In-person absentee voting is available March 19 through March 23, 2018 at the City Clerk's office on the 6th floor of City Hall, Monday - Friday 8:00 a.m. - 4:30 p.m. A valid photo ID is now required to vote.
Click on the sample ballot or here for a larger view.

---
OTW Facebook Group
Did you know the Old Third Ward has a Facebook group? It's called Appleton Old Third Ward. Anyone interested in communicating with OTW residents or aficionados can join the group. You'll be notified of posts from other group members and you can post yourself. Do you have historic OTW photos? Is there a photo you can't identify? Crowdsource! Post it! How about recipes, gardening ideas, anything you think would be of interest to the group.
---
Fall 2016 Newsletter
The latest edition of the Old Third Ward Neighborhood Association newsletter has been posted. Please Contact the Old Third Ward with any comments or questions.

---
July Meeting Minutes Now Posted
Minutes for the July, 2016 OTW Board meeting, July 24, 2016 are now available. If you have any comments or questions, please contact the Old Third Ward. Find out what's happening in Our Neighborhood! Check out the Event Calendar

---
The Old Third Ward Neighborhood Association provides scholarships to high school students who wish to pursue studies in historic preservation, urban planning, local history and other related subjects. The Association also brings the neighborhood together for an annual dinner (in January) and an end-of-summer picnic (in September.) We also maintain the Old Third Ward Website, publish a popular walking tour brochure of the area, and stage periodic home tours. Please help the Association continue these worthy practices. The Old Third Ward Neighborhood Association is a private nonprofit corporation.