410 S. Walnut St.
---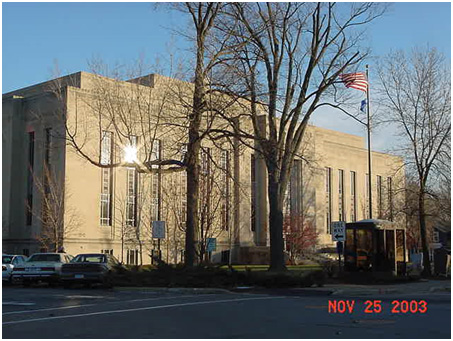 The Outagamie County Administration building dates from 1942 and is Art Deco in style inside and out. The lobby is decorated with murals by artist Francis Scott Bradford, a resident of the Old Third Ward (312 W. Prospect Ave.)
The Historic building survey, Appleton, WI, (1978), states the building is made of precast concrete and features grouped windows. Appleton resident Raymond N. Le Vee was the architect. An artist's rendering of the proposed building appeared in the February 22, 1940 edition (p. 12) of the Appleton Post-Crescent.
This building became the Administration Building for the County upon the completion of the Outagamie County Justice Center in 1992. It had been the Outagamie County Court House, as were the two buildings previous to this one.
Brown County in what was then the Michigan Territory was formed in 1818 and the boundaries fixed in 1834. All of what is now Appleton was in Brown County. In 1851 State Senator Theodore Conkey introduced a bill to separate the western part of Brown County into a new county, suggesting the name "Utaghamie." The act approved February 17, 1851, was as follows: "That all that portion of country now embraced in the county of Brown, known and designated as Towns 21, 22, 23 and 24 north, ranges 15, 16, 17 and 18 and the west half of 19, is hereby set off into a separate county, which shall be called and known as the county of Outagamie." It was also decided that the town of Grand Chute, which was comprised of the villages of Lawesburg, Appleton and Grand Chute, would be the county seat. In the 1853 Wisconsin Gazetteer (p. 168), it states "The seat of justice is about half way between the villages of Appleton and Grand Chute, and about a mile from each."
Once the county was established, Conkey and his associates donated the block bordered by Elm St., Walnut St., 6th St. and 7th St. for the court house with a jail in the basement. After interminable delays a frame building was erected in 1855. A Second Empire structure designed by H. C. Koch & Company of Milwaukee replaced the original in 1882.

Reproduction of image from Morrow and Gillett's Appleton city directory, for 1889-90. Comprising an alphabetically arranged list of business firms and private citizens; a classified list of all trades, professions and pursuits; a miscellaneous directory of city and county officers; the public and private schools, churches, banks, incorporated institutions, societies, etc., etc. Morrow and Gillett, 1889-1890. P. 7. Used with permission of the Appleton Public Library.

Reproduction of photograph by J. E. H. Stimson, from Appleton, Wis., Illustrated (1892)
Used with permission of the Appleton Public Library.
Reproduction of image, First Outagamie County Courthouse, [probably 1855] from Fox Valley Memory
Used with permission of the Appleton Public Library

---

Outagamie County Court House, "County's first Court House," circa 1868.
Stereograph from Fox Valley Memory
Used with permission of the History Museum at the Castle