The Stairs at Elm St.
---
Elm Street used to cut through Prospect and continue down to Water Street:
From Morrow and Gillett's Appleton city directory, for 1889-90:
ELM, 919 Lawrence, south to Water, second west of Appleton, numbers from 410 to 555.
In the early 20th century a set of stairs led from the foot of Elm St. down to Water St. to the first municipal swimming pool in the city, built in 1916. Remnants of those stairs can still be seen where S. Elm St. meets W. Prospect Ave. The Summer, 2000 Old Third Ward Neighborhood Association newsletter published an article on the swimming pool, along with a photo reproduction.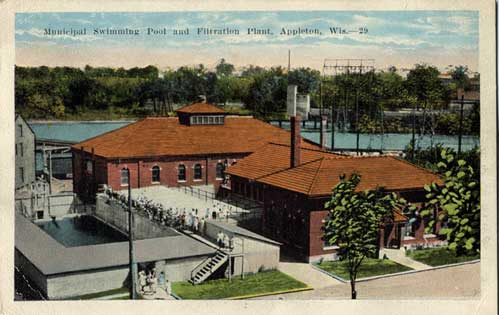 Postcard, ca. 1954, from Fox Valley Memory. Used with permission of the Appleton Public Library.