Henry J. Rogers
---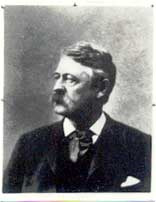 The following is taken verbatim from The History of Outagamie County, [1911?]:
H. J. Rogers, the only resident member of the [Appleton Paper and Pulp} company, and its secretary and treasurer, is a native of New York, from which State he moved to Colorado, in 1859, residing there and in Wyoming until his coming to this city, in 1873. He is vice-president of the Green Bay and Mississippi Canal Company; one of the directors of the Gaslight Company; a stockholder in other individual concerns, and the present Alderman of the Third Ward.
Henry Rogers built the home at 625 W. Prospect Ave. now known as Hearthstone.
Reproduction of photograph from Fox Valley Memory. Used with permission of the Appleton Public Library.