200 W. Prospect Ave.
Street number prior to 1925: 834 Prospect
---
Reproduction of photograph from Fox Valley Memory
used with permission of the Appleton Public Library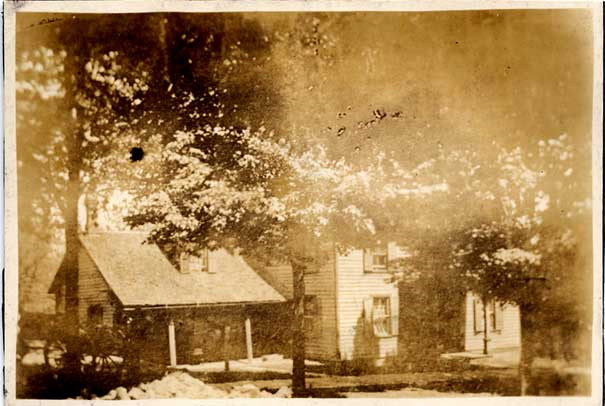 This photo dated 1893-94 is called the Mary K. Hutchinson House. Mary Kimball was born June 12, 1821 in Yarmouth, Nova Scotia and died December 12, 1897 in Appleton. The Hutchinson family was in Appleton in 1860: husband James, a merchant who established the Appleton Woolen Factory that same year, Mary K., daughters Elizabeth A., 16, who worked as a maid, Anna and Helen, both 14, Mary, 4, Augusta, 3, and son William, 10, all born in Nova Scotia, and a servant, Anna Lennon, born in Ireland. By 1870 the family consisted of husband James, Mary K., daughters Helen, Anna and Mary, and son William. There was also a domentic servant and two boarders in the household. In the 1880 census, Mary K. was a widow. She lived with her two daughters, Anna and Mary. In addition she had a servant, Lizzie Wolf, and a boarder, Frank Harwood.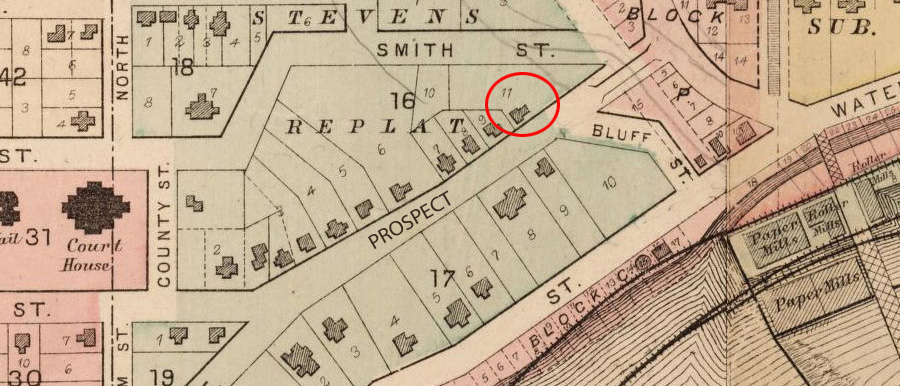 In 1893 Mary K. moved to this house on Prospect St. At that time Prospect ran from Pearl to State St. This home appears to have been in Lot 11 on the corner (left.)
Portion of: Foote, C. M. 1849-1899. (Charles M.); Brown, Walter S. Plat book of Outagamie County, Wisconsin, (1889). The city of Appleton: west central part, p. 23. Used with permission of the Appleton Public Library.