330 W. Lawrence St.
Street number prior to 1925: 910 Lawrence
---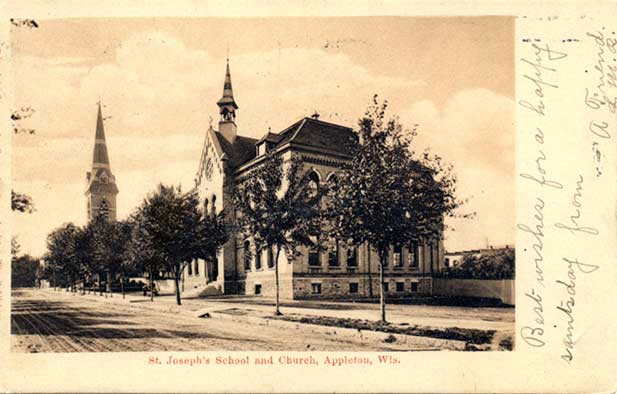 St. Joseph's Catholic School stood very near where the Radisson Paper Valley hotel is now, east of St. Joseph's Catholic Church on W. Lawrence St. It was built in 1880. A parsonage for the Capuchin fathers stood in between the school and the church.
In the 1978 historic structure survey the school was described:
"Symetrical, cream brick with stone accents, Gothic arched windows on 2nd level, squared-off arch windows on 1st level, horizontal bands formed by overlapping brick with dentils, contre-imbrication just below roof." At that time it was the oldest existing school in the city.
Reproduction of postcard, ca. 1910, from Fox Valley Memory
used with permission of the Appleton Public Library
The school can be seen in the postcard below on the far end of the Lawrence St. bridge.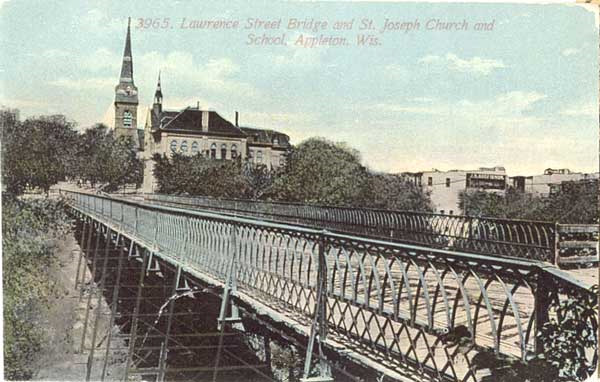 The Lawrence St. bridge spanning the ravine. Reproduction of postcard, ca. 1911, from Fox Valley Memory
used with permission of the Appleton Public Library