Ephraim C. Goff
---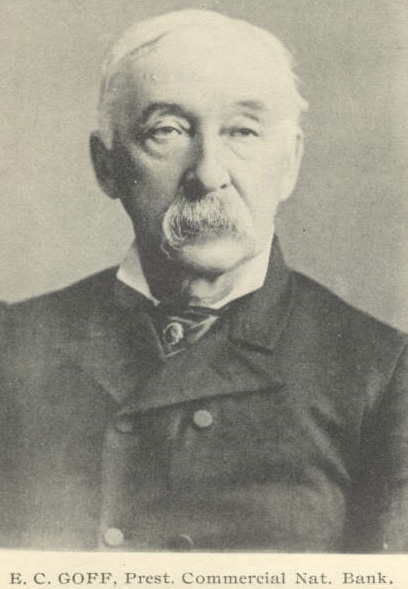 Ephraim C. Goff, President of the Appleton Gaslight Company and President of the Commercial National Bank, appears in most documents as E. C. Goff.
The following was taken from History of Northern Wisconsin (1881), p. 676:
"E. C. GOFF, real estate dealer and capitalist, is a native of Canton, N. Y., of which city he was Postmaster under Pierce's administration. In 1851 he removed to New York City, and four years later to Appleton, and until 1858 was more or less engaged in mercantile business. For the past twenty-two years he has been exclusively engaged in real estate operations, holding large landed interests in this county. His residence and grounds on Prospect street afford one of the finest views obtainable of this city and valley, and are themselves unsurpassed by any in the city. Mr. Goff devotes himself exclusively to business and the management of his farms lying contiguous to the city. He was Mayor of the city in 1871."
In 1872 he had the home at 325 W. Prospect Ave. designed by noted architect William Waters.
Reproduction of photograph from Appleton, Wis., Illustrated (1892)
Used with the permission of the Appleton Public Library