Engine House no. 2
---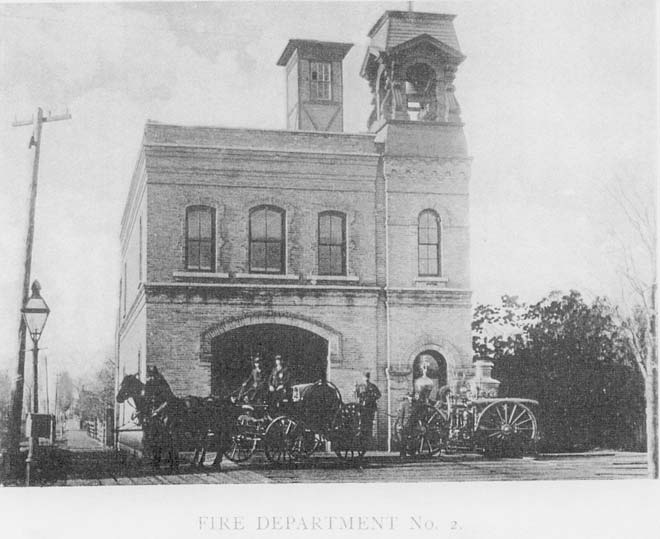 From Thomas Henry Ryan's History of Outagamie County, Wisconsin, [1911?], Part 3:
"In June, 1854, the council of Appleton passed an ordinance intended to prevent fires and to regulate the fighting of the same. The city was divided into two fire districts, all east of Appleton street being one and all west the other. Fire wardens were duly appointed for each district. Complete arrangements to prevent fires were made."
Fires continued to plague the city and by 1862 Appleton was still without the firefighting apparatatus or reservoirs needed to properly protect the city. According to the History of Outagamie County, in 1863 "the Appleton fire company was fully organized and was now one of the permanent fixtures of the city." A fire engine was purchased for the newly-formed "Lawrence Engine Company No. 1" in June of that year.
Reproduction of photograph by J. E. H. Stimson, from
Appleton, Wis., Illustrated (1892)
Used with the permission of the Appleton Public Library
In 1873 Grand Chute Engine Company No. 2 was formed. The two companies had little working equipment, little training and no coordination. For example, the companies were issued horse-drawn wagons but no horses. The first person to get a team of horses to the engine house in case of fire was paid $5.
Read more about the rival fire companies in the Old Third Ward newsletter from Winter, 2000.
Quoted from the Appleton Crescent for the week of May 8. 1880:
The following is a list of the officers of Fire Company No. 2. Third Ward: Henry Kreiss, foreman; Frank Nemachek. assistant foreman; John Tentinger, treasurer; N. Pauly, Jr.
Fire Company no. 2 operated from 1890-1920 on the corner of State and Eighth Streets where 227 S. State St. now stands. Morrow and Gillett's Appleton city directory for 1889-90 list John Schultz, Charles Rechner, John Poetzel and Fred Smith as members of the company. From 1891-1894 Schultz is listed as a teamster, and Fred Smith and Charles Kuhn are pipemen.
Hose Co. No. 2 in front of original Station No.2, northwest corner of Eighth St and State St. (L to R: unknown, John Schultz, Mike Calnin, driver William Hillman)
Reproduction of photo (1905) from Fox Valley Memory, used with permission of the History Museum at the Castle

Apparatus Bay of original Station No. 2
Hooking the horses in the apparatus bay of original Station No. 2.
Reproduction of photo from Fox Valley Memory, used with permission of the History Museum at the Castle